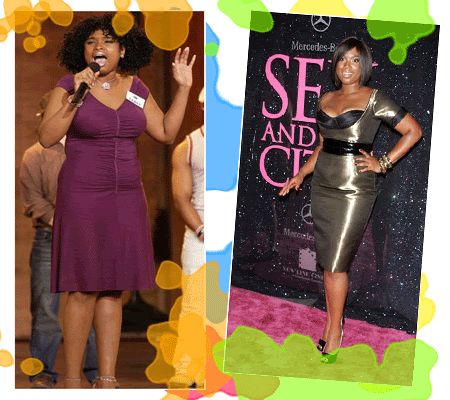 Just four years ago Jennifer Hudson was an "American Idol" hopeful, who had a big chance of winning the title, but lost out to that hood-rat, screaming banchy Fantasia Barrino. Two years past, and like many other past "Idols" she fell off the face of the earth and was quickly, easily forgotten.

But in early 2006 her name reemerged when people found out that she was cast as Effie White in the upcoming musical movie, "DreamGirls". The film opened to high success, and Jennifer was on her way to superstardom. Jennifer was nominated for every award imaginable that an actress could receive, and to everyone's surprise, she won all of them. She also took home the Oscar for "Best Supporting Actress".

Now in 2008, Jennifer has three new movies being released later this year, early next year(Sex And The City, The Secret Life of Bee's, Winged Creatures), and is releasing her debut album this September on Arista Records.

...Now take a good look at the first picture.......That child has come along way! CONGRATS JENNY! Stunt on them hoes!