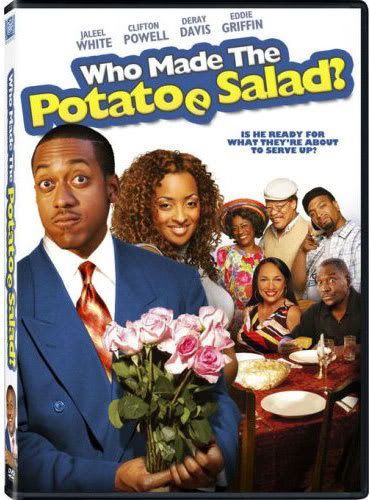 Well folks Memorial Day weekend is upon us, and it's time to fire up those grills, chow down on some good food, and invite over family and friends. Yes, even the uncle who gets hella drunk, and starts telling everybody's business!...Yea, you know you got one.
But for tonight, before the pressure begins to build up about the holiday ahead tomorrow, chill out to a "good" movie, and I use the word "good" very loosely. Don't take my word for it, but doesn't the tittle, "Who Made The Potatoe Salad" just make your mouth water.
Synopsis
:
Michael (White), a young San Diego police officer, is so thankful that his beautiful girlfriend Ashley (Jennia Fredrique – "Noah's Arc," "Passions") has accepted his marriage proposal that he decides to meet her family over Thanksgiving dinner. But nothing can prepare Michael for what Ashley's family is about to serve up: Her dad's a Black Panther, her brother's a thug, and her grandparents – well, they've got it goin' on…and on and on! By dessert time, Michael has to wonder whether his first meeting of the prospective in-laws should be his last in this delectable comedy that'll leave you begging for seconds!

...
BET should have this on the line-up very soon.