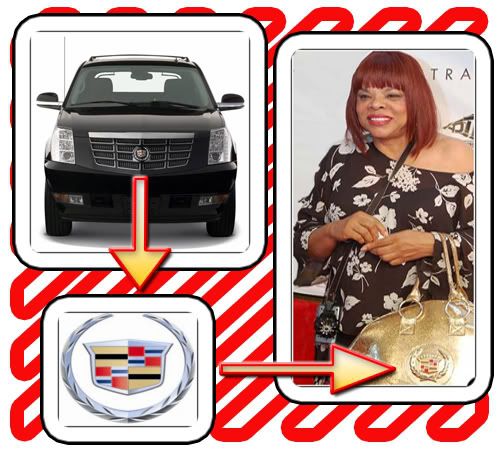 Have "Sister 2 Sister" sales been that down lately? I spotted this pic over at
Sandra Rose
, and it shows S2S editor-in-chief, Jamie Foster apparently carrying a "Cadillac" purse! Now call me crazy, but when has it been cool to rock a hood ornament as an accessory? Inquiring minds would like to know...
...And another thing that tripped me out is that the have a complete line of belts, hats, jewelery, hats, wallets, condoms,.....just kidding(LOL) and other stupid fuckery. You can
VIEW A COMPLETE LIST HERE
.
I just thought of something really crazy. Wouldn't it be funny seeing someone walking, and they had a "Cadillac" accessory? I mean the first thing you think about when someone mentions "Cadillac" is a car right?
...Just thought I'd lay that one on you. HOLLA!!