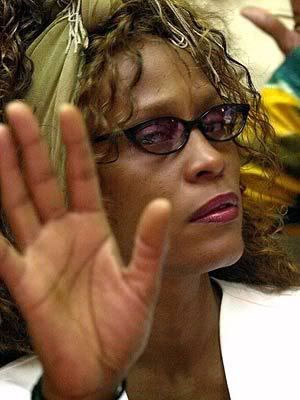 Will this sh*t ever end!

I'm sure many of you know that Brown will be releasing his autobiography, ""Being Bobby Brown: The Whole Truth and Nothin' But" later this year. In the book Brown talks about his rise and fall from fame, his and Houston's drug abuse, and about Whitney's curious BI-SEXUALITY![shocking!, but not that hard to believe.]

Brown also has a few words for Ray-J, and writes about that situation in his book:


For those of you who want to know, I'm aware of the fact that Whitney had been seeing Ray J, a very young R&B artist who is most famous for being the little brother of Brandy, the multi-platinum singing artist and TV star.

Their relationship doesn't bother me. She's open to see whoever she wants to see, just like I can see who I want to see. I know the age difference between her and the little guy is 20 years, but to each his own. The only concern I had was how our daughter felt about the age difference. As long as she's cool with it, it's fine by me.


Ray-J also had some choice for Brown, and put it on his new album, "All I Feel":


Is that your wife, is that your shorty, well I'm her boyfriend . . . I think the problem is you don't beat it right . . . Making love is cool, just pull her hair sometimes
[from the song, "Boyfriend"]

Let's just pray we don't see a tape from those two.[SOURCE]