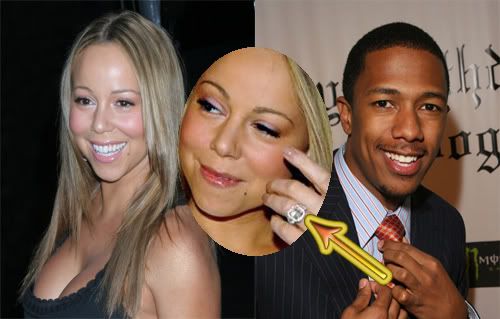 The blogosphere has been buzzing today about Nick Cannon and Mariah Carey getting married, and I decided not to post anything about this until it was confirmed. WELL HOT DAMN HOE, HERE WE GO AGAIN!
E! News is reporting that the couple is indeed married!, and that a family member of Cannon confirmed it. I know your thinking, "How the hell did Nick pull that off?". Don't wreck your brain trying to figure that out, I just decided to let it be......Let go and let flow.....
Yes, we know. He called us and told us all about it. We are happy for him. If that is what he wants then we are happy for him.
Linda Cannon told E!
[SOURCE]
The couple reportedly wed in the Bahamas, at Mariah's newly purchased home.
I know Da Brat is somewhere plotting on how to get Nick out of Mariah's life, because we all know she's all the "
man
"
Mariah will ever need.
E! also reported that a rep for jeweler Jacob & Co. confirmed that Cannon shelled out $2.5 million for the 17-carat wedding ring.